Soyuz 1
Soyuz
Soviet Space Program
Crew
Status: Lost In Flight
3/16/1927 - 4/24/1967
Nationality: Russian
Type: Government
First Flight: 10/13/1964
Last Flight: 4/23/1967
Vladimir Mikhaylovich Komarov (Russian: Влади́мир Миха́йлович Комаро́в, IPA: [vlɐˈdʲimʲɪr mʲɪˈxaɪləvʲɪtɕ kəmɐˈrof]; 16 March 1927 – 24 April 1967) was a Soviet test pilot, aerospace engineer and cosmonaut. In October 1964, he commanded Voskhod 1, the first spaceflight to carry more than one crew member. He became the first cosmonaut to fly in space twice when he was selected as the solo pilot of Soyuz 1, the first manned test flight of a new spacecraft. A parachute failure caused his Soyuz capsule to crash into the ground after re-entry on 24 April 1967, making him the first human to die in a space flight.
Mission
Soyuz 1
Type: Human Exploration
Soyuz 1 was the first crewed flight of a Soyuz spacecraft, it carried the Soviet cosmonaut Vladimir Komarov to orbit. The mission goal was to rendezvous with Soyuz 2 and move crew members between the spacecrafts, the goal was not met due to Soyuz 2 launch being called off due to thunderstorms. Vladimir Komarov was killed when the parachutes of his Soyuz capsule failed during descent to earth becoming the first in-flight fatality of spaceflight.
Trajectory
The trajectory is unavailable. Check back for updates.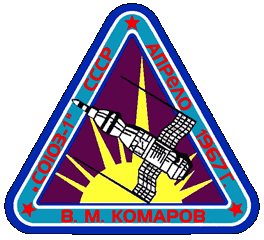 Location
Baikonur Cosmodrome, Republic of Kazakhstan
1541 rockets have launched from Baikonur Cosmodrome, Republic of Kazakhstan.
Agency
Soviet Space Program – CCCP
Type: Government
Abbreviation: CCCP
Founded: 1931
Country: RUS
The Soviet space program, was the national space program of the Union of Soviet Socialist Republics (USSR) actived from 1930s until disintegration of the Soviet Union in 1991.

The Soviet Union's space program was mainly based on the cosmonautic exploration of space and the development of the expandable launch vehicles, which had been split between many design bureaus competing against each other. Over its 60-years of history, the Russian program was responsible for a number of pioneering feats and accomplishments in the human space flight, including the first intercontinental ballistic missile (R-7), first satellite (Sputnik 1), first animal in Earth orbit (the dog Laika on Sputnik 2), first human in space and Earth orbit (cosmonaut Yuri Gagarin on Vostok 1), first woman in space and Earth orbit (cosmonaut Valentina Tereshkova on Vostok 6), first spacewalk (cosmonaut Alexei Leonov on Voskhod 2), first Moon impact (Luna 2), first image of the far side of the Moon (Luna 3) and unmanned lunar soft landing (Luna 9), first space rover (Lunokhod 1), first sample of lunar soil automatically extracted and brought to Earth (Luna 16), and first space station (Salyut 1). Further notable records included the first interplanetary probes: Venera 1 and Mars 1 to fly by Venus and Mars, respectively, Venera 3 and Mars 2 to impact the respective planet surface, and Venera 7 and Mars 3 to make soft landings on these planets.