Soyuz TM-7
Soyuz-U2
Soviet Space Program
Crew
Status: Retired
8/27/1958 -
Nationality: Russian
Type: Government
First Flight: 11/26/1988
Last Flight: 4/15/2005
Sergei Konstantinovich Krikalev (Russian: Серге́й Константинович Крикалёв, also transliterated as Sergei Krikalyov; born August 27, 1958) is a Russian cosmonaut and mechanical engineer. As a prominent rocket scientist, he is a veteran of six space flights and ranks third to Gennady Padalka and Yuri Malenchenko for the amount of time in space: a total of 803 days, 9 hours, and 38 minutes.
Status: Retired
8/20/1938 -
Nationality: French
Type: Government
First Flight: 6/24/1982
Last Flight: 9/26/1997
Jean-Loup Jacques Marie Chrétien (born 20 August 1938) is a French retired Général de Brigade (brigadier general) in the Armée de l'Air (French air force), and a former CNES spationaut. He flew on two Franco-Soviet space missions and a NASA Space Shuttle mission. Chrétien was the first Frenchman and the first western European in space.
Status: Retired
5/27/1948 -
Nationality: Russian
Type: Government
First Flight: 9/17/1985
Last Flight: 10/2/1991
Aleksandr Aleksandrovich Volkov (Russian: Алекса́ндр Алекса́ндрович Во́лков, born 27 May 1948) is a retired Russian cosmonaut. He is a veteran of 3 space flights, including twice to the Mir Soviet space station, and is the father of cosmonaut Sergey Volkov.
Mission
Soyuz TM-7
Type: Human Exploration
Soyuz TM-7 was the seventh mission to Mir space station. The mission began on November 26, 1988, 15:49:34 UTC, launching Commander Alexander Volkov, Flight Engineer Sergei Krikalyov and Research Cosmonaut Jean-Loup Chrétien. They docked with Mir two days later, meeting with the resident crew. While Jean-Loup Chrétien returned 3 weeks later, two other cosmonauts were a part of the fourth long-duration expedition on Mir. During their stay there, cosmonauts performed an EVA and various experiments in biology, medicine, X-ray astronomy, technology etc. They also carried out sky surveys, spectrographic and topographic Earth observation experiments. Crew were visited by three Progress resupply spacecrafts.
Jean-Loup Chrétien returned to Earth on December 21, 1988 in a Soyuz TM-6 spacecraft. The long-duration expedition crew returned on a Soyuz TM-7 spacecraft, landing safely back on Earth on April 27, 1989, 02:57:58 UTC.
Trajectory
The trajectory is unavailable. Check back for updates.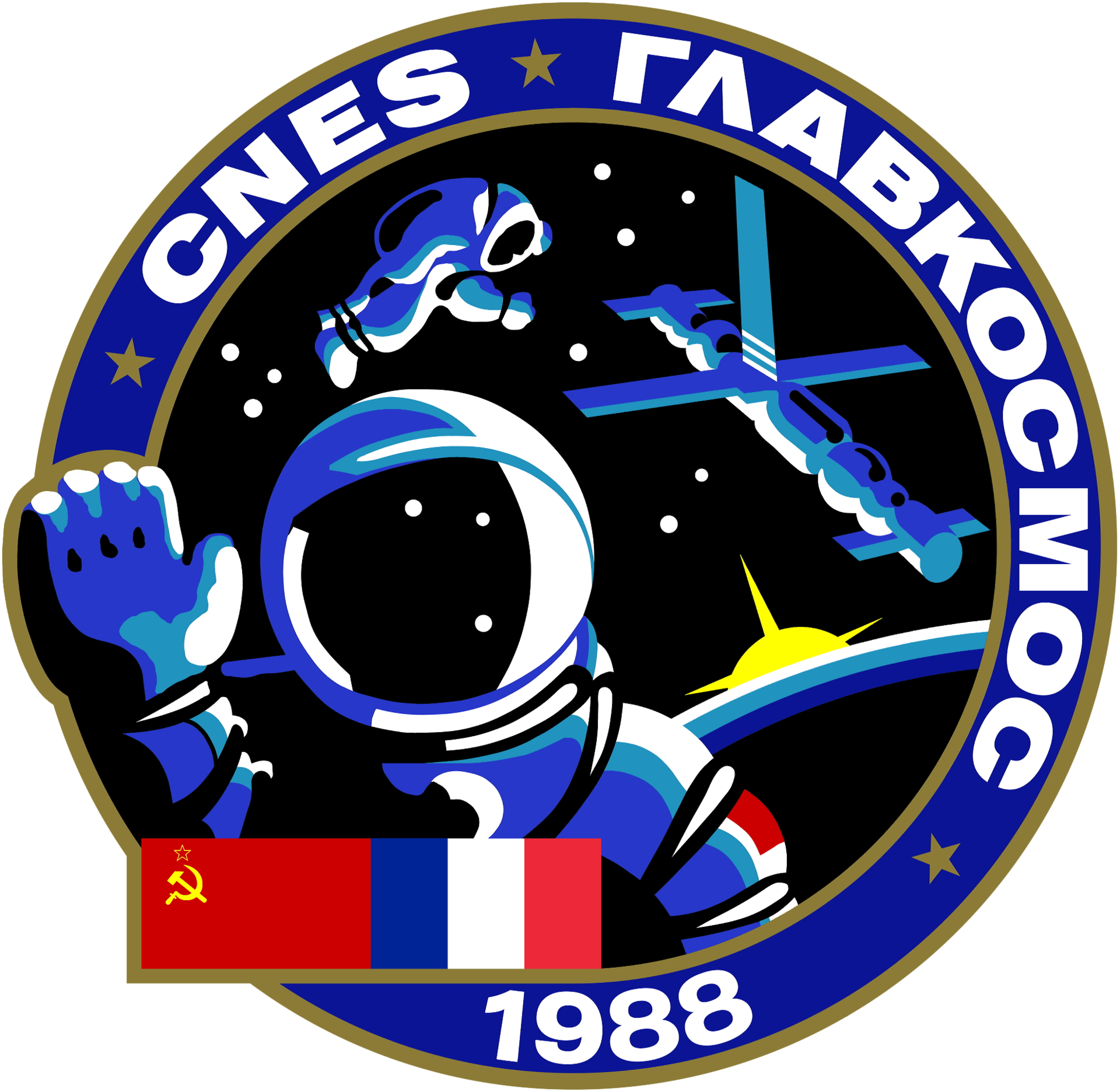 Location
Baikonur Cosmodrome, Republic of Kazakhstan
1541 rockets have launched from Baikonur Cosmodrome, Republic of Kazakhstan.
Rocket
Soyuz-U2 – Soviet Space Program
Family: Soyuz-U
Length: 34.54 m
Diameter: 2.95 m
Launch Mass: 298 T
Low Earth Orbit Capacity: 7050 kg
The Soyuz-U2 was manufactured by Soviet Space Program with the first launch on 1982-12-23. Soyuz-U2 has 71 successful launches and 0 failed launches with a total of 71 launches. The Soyuz-U2 was a Soviet, later Russian, carrier rocket. It was derived from the Soyuz-U, and a member of the R-7 family of rockets. It featured increased performance compared with the baseline Soyuz-U, due to the use of syntin propellant, as opposed to RP-1 paraffin, used on the Soyuz-U.
Agency
Soviet Space Program – CCCP
Type: Government
Abbreviation: CCCP
Founded: 1931
Country: RUS
The Soviet space program, was the national space program of the Union of Soviet Socialist Republics (USSR) actived from 1930s until disintegration of the Soviet Union in 1991.

The Soviet Union's space program was mainly based on the cosmonautic exploration of space and the development of the expandable launch vehicles, which had been split between many design bureaus competing against each other. Over its 60-years of history, the Russian program was responsible for a number of pioneering feats and accomplishments in the human space flight, including the first intercontinental ballistic missile (R-7), first satellite (Sputnik 1), first animal in Earth orbit (the dog Laika on Sputnik 2), first human in space and Earth orbit (cosmonaut Yuri Gagarin on Vostok 1), first woman in space and Earth orbit (cosmonaut Valentina Tereshkova on Vostok 6), first spacewalk (cosmonaut Alexei Leonov on Voskhod 2), first Moon impact (Luna 2), first image of the far side of the Moon (Luna 3) and unmanned lunar soft landing (Luna 9), first space rover (Lunokhod 1), first sample of lunar soil automatically extracted and brought to Earth (Luna 16), and first space station (Salyut 1). Further notable records included the first interplanetary probes: Venera 1 and Mars 1 to fly by Venus and Mars, respectively, Venera 3 and Mars 2 to impact the respective planet surface, and Venera 7 and Mars 3 to make soft landings on these planets.