Soyuz TM-20
Soyuz-U2
Russian Federal Space Agency (ROSCOSMOS)
Crew
Status: Deceased
3/29/1947 - 8/10/2023
Nationality: Russian
Type: Government
First Flight: 7/22/1987
Last Flight: 10/3/1994
Aleksandr Stepanovich Viktorenko (Александр Степанович Викторенко) was a Soviet cosmonaut. He was born in Olginka, North-Kazakhstan Oblast, Kazakh SSR on March 29, 1947. He is married with two children.

He was selected as a cosmonaut on March 23, 1978, and retired on May 30, 1997. During his active career he had been Commander of Soyuz TM-3, Soyuz TM-8, Soyuz TM-14 and Soyuz TM-20. He has spent a total of 489 days in space.
Status: Retired
3/30/1957 -
Nationality: Russian
Type: Government
First Flight: 10/3/1994
Last Flight: 5/15/1997
Yelena Vladimirovna Kondakova (Russian: Елена Владимировна Кондакóва; born March 30, 1957) was the third Soviet/Russian female cosmonaut to travel to space and the first woman to make a long-duration spaceflight. Her first trip into space was on Soyuz TM-20 on October 4, 1994. She returned to Earth on March 22, 1995 after a five-month stay at the Mir space station. Kondakova's second flight was as a mission specialist on the United States Space Shuttle Atlantis during mission STS-84 in May 1997. She was the last Russian female in space until her successor cosmonaut Elena Serova flew to the International Space Station (ISS) on 25 September 2014.
Status: Retired
6/20/1941 -
Nationality: German
Type: Government
First Flight: 11/28/1983
Last Flight: 10/3/1994
Dr. Ulf Dietrich Merbold (born June 20, 1941) is the first West German citizen and second German native (after Sigmund Jähn) to have flown in space. He is also the first member of the European Space Agency Astronaut Corps to participate in a spaceflight mission and the first non-US citizen to reach orbit in a US spacecraft. In 1983, he and Byron Lichtenberg became the first Payload Specialists to fly on the shuttle.
Mission
Soyuz TM-20
Type: Human Exploration
Soyuz TM-20 was the 20th mission and the 17th long-duration expedition to Mir space station. The mission began on October 3, 1994, 22:42:30 UTC, launching Commander Alexander Viktorenko, Flight Engineer Yelena Kondakova and Research Cosmonaut Ulf Merbold into orbit. They docked with Mir two days later. During their stay there, cosmonauts performed two EVAs, carried out various scientific experiments. Station crew was visited by several Progress resupply spacecrafts, and welcomed aboard the Soyuz TM-21 crew. During this mission the first rendezvous maneuver of the Space Shuttle STS-63 with the Mir space station was performed.
The mission concluded with a safe landing back on Earth on March 22, 1995, 04:04:05 UTC.
Trajectory
The trajectory is unavailable. Check back for updates.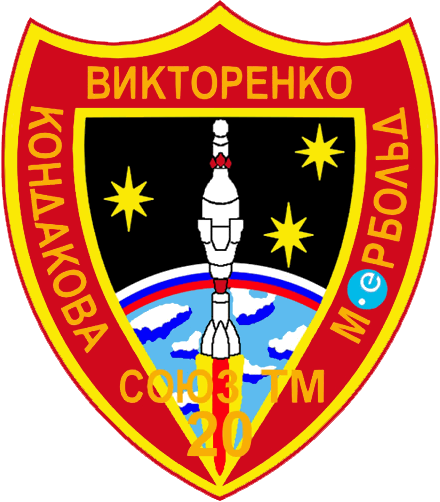 Location
Baikonur Cosmodrome, Republic of Kazakhstan
1543 rockets have launched from Baikonur Cosmodrome, Republic of Kazakhstan.
Agency
Russian Federal Space Agency (ROSCOSMOS) – RFSA
Type: Government
Abbreviation: RFSA
Administration: Administrator: Yuri Borisov
Founded: 1992
Launchers: Soyuz
Spacecraft: Soyuz
Country: RUS
The Roscosmos State Corporation for Space Activities, commonly known as Roscosmos, is the governmental body responsible for the space science program of the Russian Federation and general aerospace research. Soyuz has many launch locations the Russian sites are Baikonur, Plesetsk and Vostochny however Ariane also purchases the vehicle and launches it from French Guiana.