Soyuz TM-14
Soyuz-U2
Russian Federal Space Agency (ROSCOSMOS)
Crew
Status: Deceased
3/29/1947 - 8/10/2023
Nationality: Russian
Type: Government
First Flight: 7/22/1987
Last Flight: 10/3/1994
Aleksandr Stepanovich Viktorenko (Александр Степанович Викторенко) was a Soviet cosmonaut. He was born in Olginka, North-Kazakhstan Oblast, Kazakh SSR on March 29, 1947. He is married with two children.

He was selected as a cosmonaut on March 23, 1978, and retired on May 30, 1997. During his active career he had been Commander of Soyuz TM-3, Soyuz TM-8, Soyuz TM-14 and Soyuz TM-20. He has spent a total of 489 days in space.
Status: Retired
8/21/1952 -
Nationality: German
Type: Government
First Flight: 3/17/1992
Last Flight: 3/17/1992
Klaus-Dietrich Flade (born August 23, 1952) is a German pilot and former German Aerospace Center astronaut who visited the Mir space station in 1992 aboard the Soyuz TM-14 mission, returning to Earth a week later aboard Soyuz TM-13.
Status: Active
5/13/1956 -
Nationality: Russian
Type: Government
First Flight: 3/17/1992
Last Flight: 10/7/2010
Aleksandr Yuriyevich "Sasha" Kaleri (Russian: Александр Юрьевич Калери; born Jūrmala, Latvian SSR, USSR, 13 May 1956) is a Russian cosmonaut and veteran of extended stays on the Mir Space Station and the International Space Station (ISS). Kaleri has most recently been in space aboard the ISS serving as a flight engineer for the long duration Expedition 25/26 missions. He has spent the fourth-longest time in space of any person, the longest time in space of any currently active cosmonaut, and the longest time in space of any person not born in what is now Russia.
Mission
Soyuz TM-14
Type: Human Exploration
Soyuz TM-14 was the 14th mission and the 11th long-duration expedition to Mir space station. It was the first mission after the USSR collapsed, and so became the first Russian space flight. The mission began on March 17, 1992, 10:54:30 UTC, launching Commander Alexander Viktorenko, Flight Engineer Alexander Kaleri and Research Cosmonaut Klaus-Dietrich Flade into orbit. They docked with Mir two days later. During their stay there, cosmonauts performed an EVA, various station repair and maintenance tasks, and carried out scientific experiments in materials research, space technology, astrophysics and earth observation. They were visited by several Progress resupply spacecrafts, and welcomed aboard the Soyuz TM-15 crew.
The mission concluded with a safe landing back on Earth on August 10, 1992, 01:05:02 UTC.
Trajectory
The trajectory is unavailable. Check back for updates.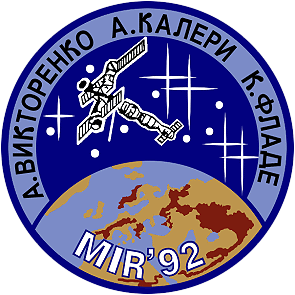 Location
Baikonur Cosmodrome, Republic of Kazakhstan
1542 rockets have launched from Baikonur Cosmodrome, Republic of Kazakhstan.
Agency
Russian Federal Space Agency (ROSCOSMOS) – RFSA
Type: Government
Abbreviation: RFSA
Administration: Administrator: Yuri Borisov
Founded: 1992
Launchers: Soyuz
Spacecraft: Soyuz
Country: RUS
The Roscosmos State Corporation for Space Activities, commonly known as Roscosmos, is the governmental body responsible for the space science program of the Russian Federation and general aerospace research. Soyuz has many launch locations the Russian sites are Baikonur, Plesetsk and Vostochny however Ariane also purchases the vehicle and launches it from French Guiana.