Soyuz TM-33
Soyuz U
Russian Federal Space Agency (ROSCOSMOS)
Crew
Status: Retired
12/31/1948 -
Nationality: Russian
Type: Government
First Flight: 12/2/1990
Last Flight: 10/21/2001
Viktor Mikhailovich Afanasyev Russian: Виктор Михайлович Афанасьев; born 31 December 1948) is a colonel in the Russian Air Force and a test cosmonaut of the Yu. A. Gagarin Cosmonaut Training Center.
Status: Retired
12/1/1967 -
Nationality: Russian
Type: Government
First Flight: 10/21/2001
Last Flight: 10/21/2001
Konstantin Mirovich Kozeyev (Russian: Константин Мирович Козеев) is a retired Russian cosmonaut.
He flew as Flight Engineer on Soyuz TM-33 in 2001.
Status: Retired
5/13/1957 -
Nationality: French
Type: Government
First Flight: 8/17/1996
Last Flight: 10/21/2001
Claudie André-Deshays Haigneré (born 13 May 1957) is a French former astronaut with the Centre National d'Études Spatiales and the European Space Agency. She was the first French woman to go the space and the first European woman to visit the International Space Station.
Mission
Soyuz TM-33
Type: Human Exploration
Soyuz TM-33 was a visiting mission to ISS, which carried 3 cosmonauts and astronauts.
Russian Commander, cosmonaut Viktor Afanasyev alongside Flight Engineer, ESA astronaut Claudie Haigneré and Flight Engineer/Spaceflight Participant, Konstantin Kozeyev launched aboard the Soyuz spacecraft on October 21, 2001, 08:59:35 UTC. They docked with the station two days later. During their stay there, crew assisted Expedition 3 members in station work.
Soyuz TM-33 crew returned aboard Soyuz TM-32, landing safely back on Earth on October 31, 2001, 05:00:00 UTC.
Trajectory
The trajectory is unavailable. Check back for updates.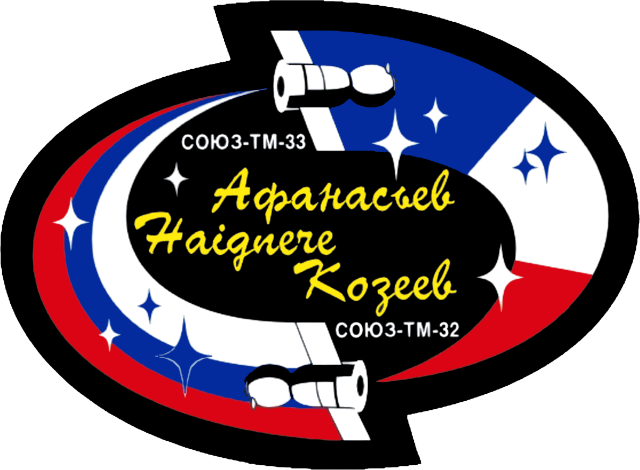 Location
Baikonur Cosmodrome, Republic of Kazakhstan
1542 rockets have launched from Baikonur Cosmodrome, Republic of Kazakhstan.
Agency
Russian Federal Space Agency (ROSCOSMOS) – RFSA
Type: Government
Abbreviation: RFSA
Administration: Administrator: Yuri Borisov
Founded: 1992
Launchers: Soyuz
Spacecraft: Soyuz
Country: RUS
The Roscosmos State Corporation for Space Activities, commonly known as Roscosmos, is the governmental body responsible for the space science program of the Russian Federation and general aerospace research. Soyuz has many launch locations the Russian sites are Baikonur, Plesetsk and Vostochny however Ariane also purchases the vehicle and launches it from French Guiana.