Soyuz TM-31
Soyuz-U
Russian Federal Space Agency (ROSCOSMOS)
Submit a Photo of this Launch
Submit Launch Photo
Thank you for submitting your launch photo for display on this launch page. By submitting a photo you are giving permission to display the photo on this launch page including a photo credit and an optional link. Files will be reviewed and only high quality photos will be approved.
Crew
Status: Retired
7/26/1949 -
Nationality: American
Type: Government
First Flight: 12/2/1988
Last Flight: 10/31/2000
William McMichael "Bill" Shepherd is an American former Navy SEAL, aerospace, ocean, and mechanical engineer, and NASA astronaut who served as Commander of Expedition 1, the first crew on the International Space Station. He is also a recipient of the Congressional Space Medal of Honor.
Status: Retired
3/26/1962 -
Nationality: Russian
Type: Government
First Flight: 9/3/1995
Last Flight: 4/25/2002
Yuri Pavlovich Gidzenko (Russian: Гидзенко, Юрий Павлович; born March 26, 1962) is a Russian cosmonaut. He was a test cosmonaut of the Yuri Gagarin Cosmonaut Training Center (TsPK). Gidzenko has flown into space three times and has lived on board the Mir and International Space Stations. He has also conducted two career spacewalks. Although he retired on July 15, 2001, he continued his employment by a special contract until Soyuz TM-34 concluded.
Status: Retired
8/27/1958 -
Nationality: Russian
Type: Government
First Flight: 11/26/1988
Last Flight: 4/15/2005
Sergei Konstantinovich Krikalev (Russian: Серге́й Константинович Крикалёв, also transliterated as Sergei Krikalyov; born August 27, 1958) is a Russian cosmonaut and mechanical engineer. As a prominent rocket scientist, he is a veteran of six space flights and ranks third to Gennady Padalka and Yuri Malenchenko for the amount of time in space: a total of 803 days, 9 hours, and 38 minutes.
Mission
Soyuz TM-31
Type: Human Exploration
Soyuz TM-31 began Expedition 1 by carrying 3 cosmonauts and astronauts to the International Space Station.
Russian Commander, cosmonaut Yuri Gidzenko alongside Flight Engineer, Sergei Krikalev and Flight Engineer/Spaceflight Participant William Shepherd launched aboard the Soyuz spacecraft on October 31, 2000, 07:52:47 UTC. They docked with the station two days later. During their stay there, crew performed first maintenance and repair works, carried out first experiments and conducted several EVAs. They were also visited by several Progress resupply spacecrafts and STS-97 and STS-98 crews, and welcomed aboart STS-102 with the next expedition crew.
Expedition 1 returned with STS-102, landing safely back on Earth on 21 March 2001, 07:33:06 UTC.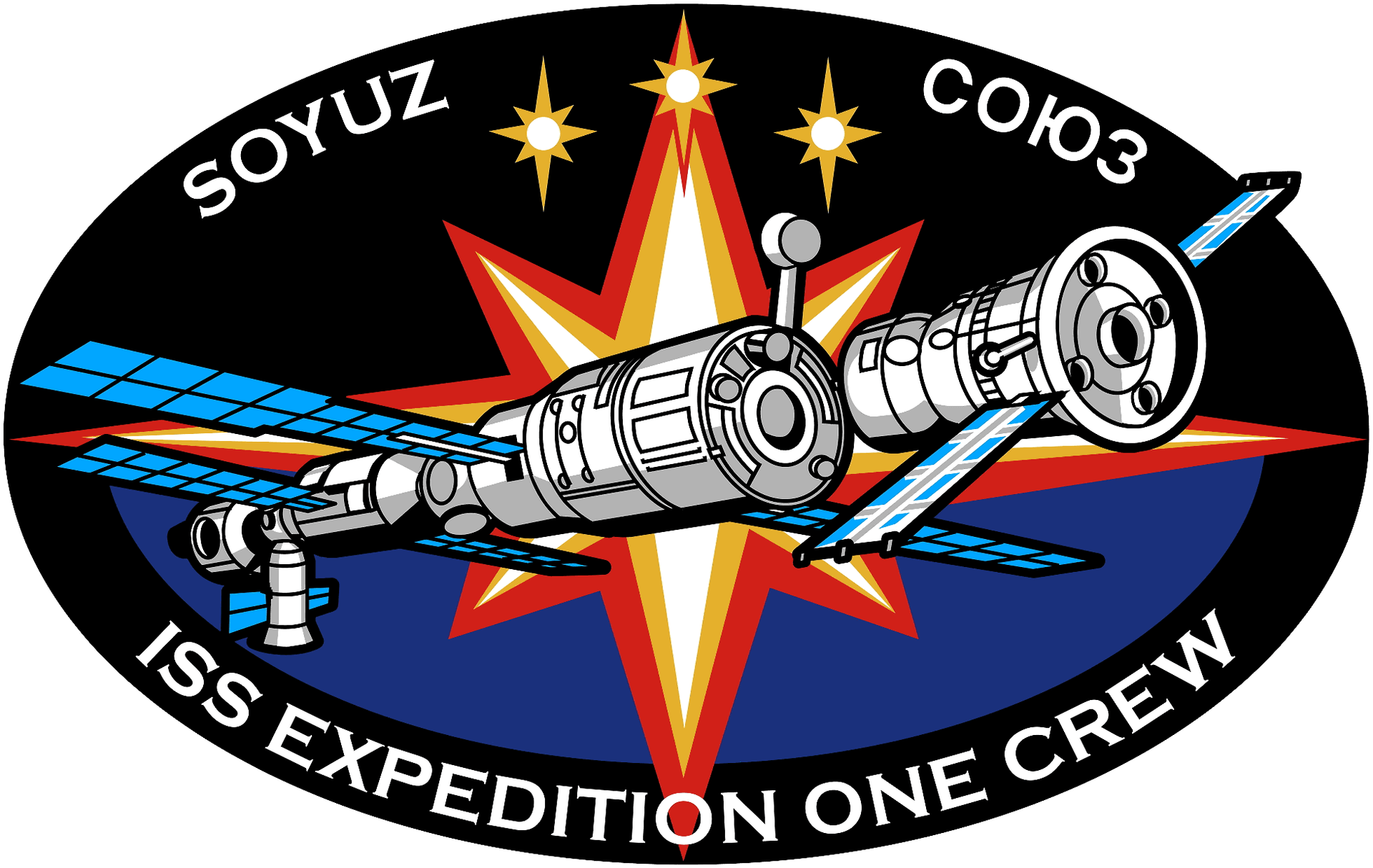 Location
Baikonur Cosmodrome, Republic of Kazakhstan
1531 rockets have launched from Baikonur Cosmodrome, Republic of Kazakhstan.
Agency
Russian Federal Space Agency (ROSCOSMOS)
Type: Government
Abbreviation: RFSA
Administration: Administrator: Dmitry Rogozin
Founded: 1992
Launchers: Soyuz
Spacecraft: Soyuz
Country: RUS
The Roscosmos State Corporation for Space Activities, commonly known as Roscosmos, is the governmental body responsible for the space science program of the Russian Federation and general aerospace research. Soyuz has many launch locations the Russian sites are Baikonur, Plesetsk and Vostochny however Ariane also purchases the vehicle and launches it from French Guiana.