Soyuz TMA-13
Soyuz-FG
Russian Federal Space Agency (ROSCOSMOS)
Submit a Photo of this Launch
Submit Launch Photo
Thank you for submitting your launch photo for display on this launch page. By submitting a photo you are giving permission to display the photo on this launch page including a photo credit and an optional link. Files will be reviewed and only high quality photos will be approved.
Crew
Status: Active
3/14/1967 -
Nationality: American
Type: Government
First Flight: 4/19/2004
Last Flight: 5/16/2011
Edward Michael "Mike"/"Spanky" Fincke is an American astronaut who formerly held the American record for the most time in space (381.6 days). His record was broken by Scott Kelly on October 16, 2015. He was born in Pittsburgh, Pennsylvania, but considers its suburb Emsworth to be his hometown. He is a United States Air Force officer and a NASA astronaut, and served two tours aboard the International Space Station as a flight engineer and commander. He flew on one Space Shuttle mission, STS-134 as a Mission Specialist.
Status: Retired
7/4/1961 -
Nationality: British
Type: Non-Astronaut Passenger
First Flight: 10/12/2008
Last Flight: 10/12/2008
Richard Allen Garriott de Cayeux (born July 4, 1961) is an English-American video game developer and entrepreneur.

On October 12, 2008, Garriott flew aboard Soyuz TMA-13 to the International Space Station as a private astronaut, returning 12 days later aboard Soyuz TMA-12. He became the second astronaut, and first from the U.S., who had a parent that was also a space traveler.
Status: Retired
3/4/1965 -
Nationality: Russian
Type: Government
First Flight: 4/19/2001
Last Flight: 10/12/2008
Yury Valentinovich Lonchakov (Russian: Юрий Валентинович Лончаков; born 4 March 1965) is a Russian former cosmonaut and a veteran of three space missions. He has spent 200 days in space and has conducted two career spacewalks.
Mission
Soyuz TMA-13
Type: Human Exploration
Soyuz TMA-13 begins Expedition 18 by carrying 3 astronauts and cosmonauts to the International Space Station.
Russian Commander, cosmonaut Yuri Lonchakov alongside Flight Engineer, Michael Fincke (NASA) & spaceflight participant Richard Garriott (Space Adventures) will launch aboard the Soyuz spacecraft from the Baikonur Cosmodrome in Kazakhstan and then rendezvous with the station.
It landed on 8 April 2009, 07:16 UTC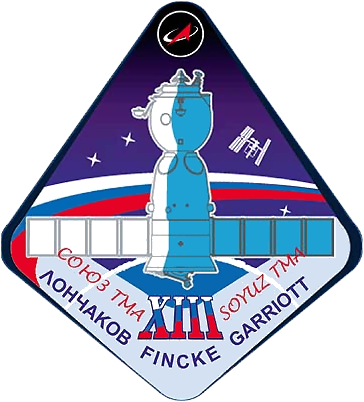 Location
Baikonur Cosmodrome, Republic of Kazakhstan
1531 rockets have launched from Baikonur Cosmodrome, Republic of Kazakhstan.
Agency
Russian Federal Space Agency (ROSCOSMOS)
Type: Government
Abbreviation: RFSA
Administration: Administrator: Dmitry Rogozin
Founded: 1992
Launchers: Soyuz
Spacecraft: Soyuz
Country: RUS
The Roscosmos State Corporation for Space Activities, commonly known as Roscosmos, is the governmental body responsible for the space science program of the Russian Federation and general aerospace research. Soyuz has many launch locations the Russian sites are Baikonur, Plesetsk and Vostochny however Ariane also purchases the vehicle and launches it from French Guiana.