Skylab 3
Saturn IB
National Aeronautics and Space Administration
Crew
Status: Deceased
3/15/1932 - 5/26/2018
Nationality: American
Type: Government
First Flight: 11/14/1969
Last Flight: 7/28/1973
Alan LaVern Bean was an American naval officer and naval aviator, aeronautical engineer, test pilot, and NASA astronaut; he was the fourth person to walk on the Moon. He was selected to become an astronaut by NASA in 1963 as part of Astronaut Group 3.

He made his first flight into space aboard Apollo 12, the second manned mission to land on the Moon, at age 37 in November 1969. He made his second and final flight into space on the Skylab 3 mission in 1973, the second manned mission to the Skylab space station. After retiring from the United States Navy in 1975 and NASA in 1981, he pursued his interest in painting, depicting various space-related scenes and documenting his own experiences in space as well as that of his fellow Apollo program astronauts. He was the last living crew member of Apollo 12.
Status: Retired
2/29/1936 -
Nationality: American
Type: Government
First Flight: 7/28/1973
Last Flight: 3/22/1982
Jack Robert Lousma is an American aeronautical engineer, retired United States Marine Corps officer, former naval aviator, NASA astronaut, and politician. He was a member of the second manned crew on the Skylab space station in 1973. In 1982, he commanded STS-3, the third Space Shuttle mission.
Status: Deceased
11/22/1930 - 4/15/2019
Nationality: American
Type: Government
First Flight: 7/28/1973
Last Flight: 11/28/1983
Owen Kay Garriott is an American electrical engineer and former NASA astronaut, who spent 60 days aboard the Skylab space station in 1973 during the Skylab 3 mission, and 10 days aboard Spacelab-1 on a Space Shuttle mission in 1983.
Mission
Skylab 3
Type: Human Exploration
Skylab 3 (also known as SL-3 or SLM-2) was the second crewed mission to the first US orbital space station Skylab. The mission began on July 28, 1973, 11:10:50 UTC with the launch of a three-person crew. Crew members were the Commander Alan L. Bean, Science Pilot Owen K. Garriott and Pilot Jack R. Lousma. During their 59-day stay on the station, crew continued station repairs and conducted various scientific and medical experiments. The mission ended successfully with the splashdown in the Pacific Ocean on September 25, 1973, 22:19:51 UTC.
Trajectory
The trajectory is unavailable. Check back for updates.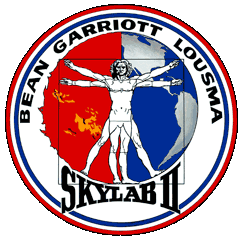 Location
Kennedy Space Center, FL, USA
222 rockets have launched from Kennedy Space Center, FL, USA.
Agency
National Aeronautics and Space Administration – NASA
Type: Government
Abbreviation: NASA
Administration: Administrator: Bill Nelson
Founded: 1958
Launchers: Space Shuttle | SLS
Spacecraft: Orion
Country: USA
The National Aeronautics and Space Administration is an independent agency of the executive branch of the United States federal government responsible for the civilian space program, as well as aeronautics and aerospace research. NASA have many launch facilities but most are inactive. The most commonly used pad will be LC-39B at Kennedy Space Center in Florida.