PAZ & Microsat-2a, Microsat-2b
Falcon 9 Full Thrust
SpaceX
Mission
PAZ & Microsat-2a, Microsat-2b
Type: Government/Top Secret
PAZ is a military Earth radar observation satellite, designed and built by Airbus Defence and Space for Spain. The satellite is owned and operated by Hisdesat. The PAZ satellite is equipped with an advanced radar instrument designed for high flexibility, and the capability to operate in numerous modes allowing for the choice of several different image configurations. It will be able to generate images with up to 25 cm resolution. Designed for a mission of five and a half years, PAZ will orbit Earth 15 times per day, covering an area of over 300,000 square kilometres. On its slightly inclined quasi-polar orbit, PAZ will cover the entire globe in 24 hours, serving both government and commercial needs. Satellite is sharing the ride with two small SpaceX satellites. These will test the technologies for the planned satellite network called Starlink, which will consist of roughly 4000 satellites providing space-based Internet around the globe.
Trajectory
The trajectory is unavailable. Check back for updates.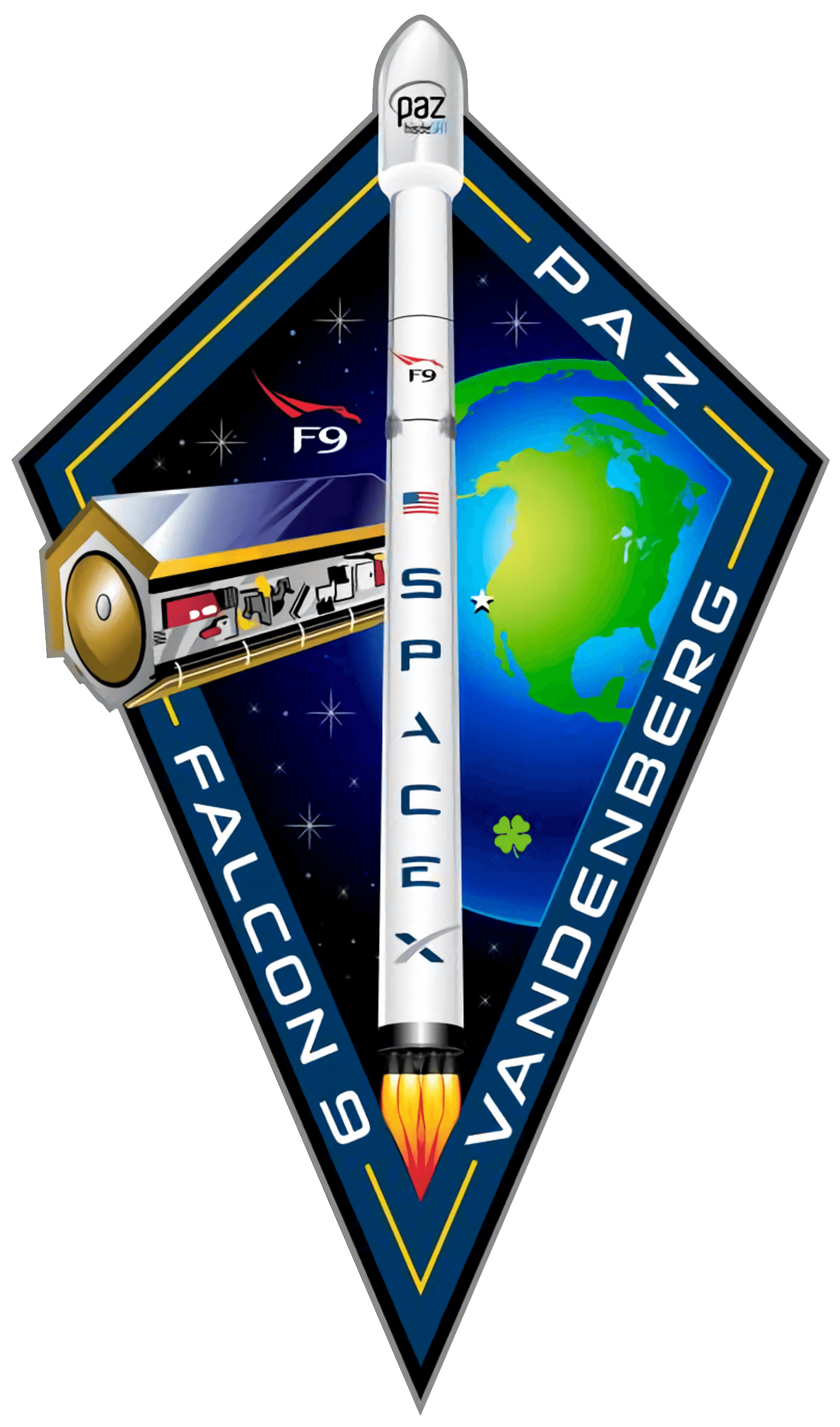 Location
Vandenberg SFB, CA, USA
728 rockets have launched from Vandenberg SFB, CA, USA.
Landing
B1038 was expended after its first flight.
Pacific Ocean – PAC
Pacific Ocean
Expended – EXP
Vehicle did not perform any landing operations after launch
Agency
SpaceX – SpX
Type: Commercial
Abbreviation: SpX
Administration: CEO: Elon Musk
Founded: 2002
Launchers: Falcon | Starship
Spacecraft: Dragon
Country: USA
Space Exploration Technologies Corp., known as SpaceX, is an American aerospace manufacturer and space transport services company headquartered in Hawthorne, California. It was founded in 2002 by entrepreneur Elon Musk with the goal of reducing space transportation costs and enabling the colonization of Mars. SpaceX operates from many pads, on the East Coast of the US they operate from SLC-40 at Cape Canaveral Space Force Station and historic LC-39A at Kennedy Space Center. They also operate from SLC-4E at Vandenberg Space Force Base, California, usually for polar launches. Another launch site is being developed at Boca Chica, Texas.