Bangabandhu-1
Falcon 9 Block 5
SpaceX
Mission
Bangabandhu-1
Type: Communications
The Bangabandhu 1 (BD-1) satellite, the first geostationary communications satellite of Bangladesh. Satellite is to be located at 119.1° East longitude slot in geostationary orbit, where it will provide service to Bangladesh and neighbouring countries. Satellite is build by Thales Aleinia Space. It is based on Spacebus 4000B2 platform, weighs 3500 kg and is fitted with Ku-Band and C-Band transponders. The major applications of the spacecraft include DTH, very small aperture terminal communications, backhaul and trunking, network restoration, and disaster preparedness and relief.
Trajectory
The trajectory is unavailable. Check back for updates.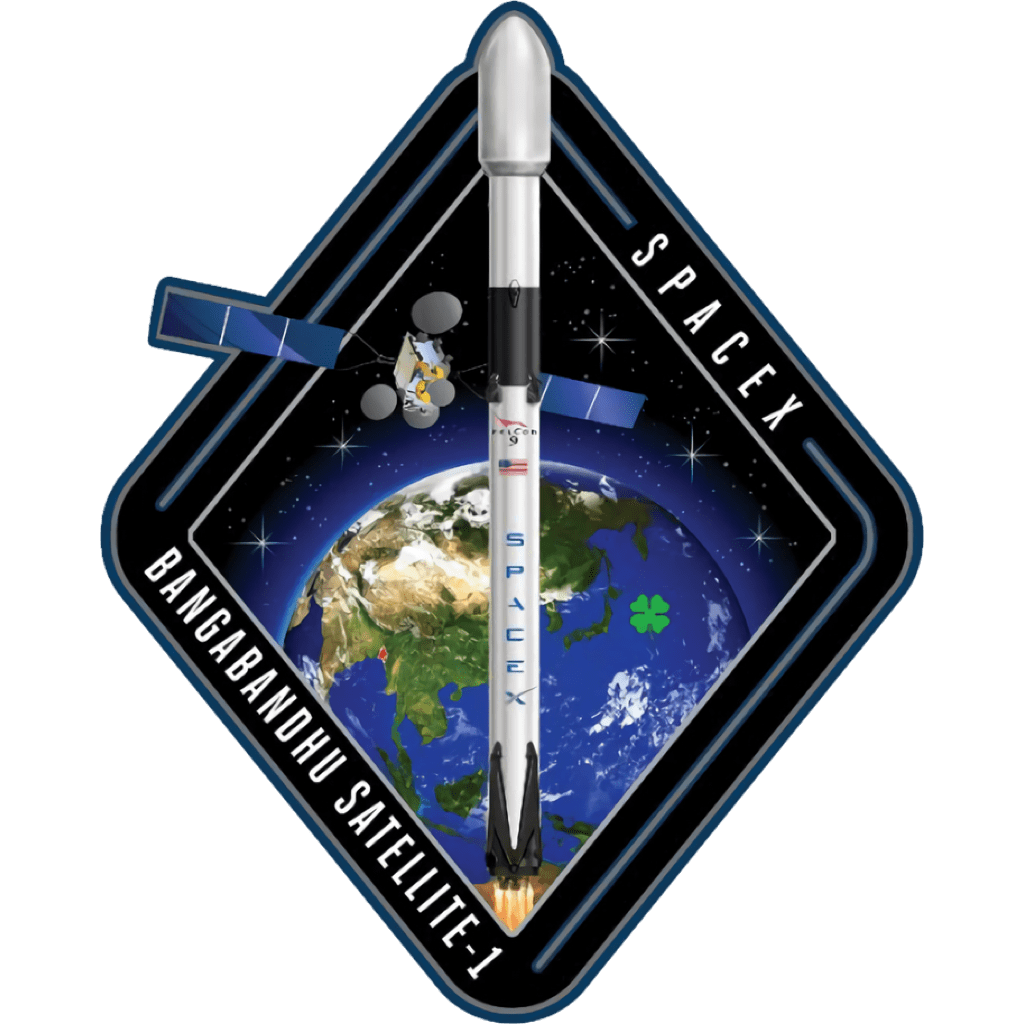 Location
Kennedy Space Center, FL, USA
225 rockets have launched from Kennedy Space Center, FL, USA.
Landing
The first stage of the Falcon 9 landed on the ASDS, OCISLY, stationed of the east coast.
Of Course I Still Love You – OCISLY
The second ASDS barge, Of Course I Still Love You (OCISLY) services launches in the Pacific Ocean and was the site of the first landing of a SpaceX Falcon 9 first stage during CRS-8, the launch of a Dragon spacecraft to the International Space Station.
Autonomous Spaceport Drone Ship – ASDS
An autonomous spaceport drone ship (ASDS) is an ocean-going vessel derived from a deck barge, outfitted with station-keeping engines and a large landing platform. Construction of such ships was commissioned by aerospace company SpaceX to allow for recovery of rocket first-stages at sea for high-velocity missions which do not carry enough fuel to return to the launch site after lofting spacecraft onto an orbital trajectory.
Agency
SpaceX – SpX
Type: Commercial
Abbreviation: SpX
Administration: CEO: Elon Musk
Founded: 2002
Launchers: Falcon | Starship
Spacecraft: Dragon
Country: USA
Space Exploration Technologies Corp., known as SpaceX, is an American aerospace manufacturer and space transport services company headquartered in Hawthorne, California. It was founded in 2002 by entrepreneur Elon Musk with the goal of reducing space transportation costs and enabling the colonization of Mars. SpaceX operates from many pads, on the East Coast of the US they operate from SLC-40 at Cape Canaveral Space Force Station and historic LC-39A at Kennedy Space Center. They also operate from SLC-4E at Vandenberg Space Force Base, California, usually for polar launches. Another launch site is being developed at Boca Chica, Texas.