Lucy
Atlas V 401
United Launch Alliance
Mission
Lucy
Type: Robotic Exploration
Launch Cost: $115,000,000
Lucy is the first mission to explore and study Trojan asteroids. The Trojans are a type of asteroids that orbit the Sun in two groups, in front of and behind Jupiter in its orbit around our star. Since these asteroids have been in such stable orbits for billions of years, they are of great interest as remnants of early Solar System.
Lucy is a NASA mission led by NASA Goddard and Southwest Research Institute in Boulder, Colorado. Over the course of 12 years, Lucy will fly by seven different Trojan asteroids and also one main belt asteroid. The complex trajectory to visit all targets will include several Earth gravity assists.
Trajectory
The trajectory is unavailable. Check back for updates.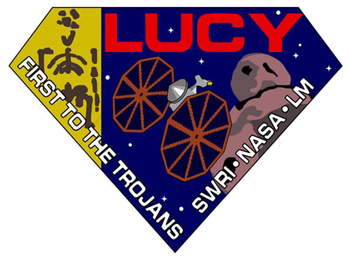 Location
Cape Canaveral, FL, USA
880 rockets have launched from Cape Canaveral, FL, USA.
Rocket
Atlas V 401 – United Launch Alliance
Family: Atlas
Length: 58.3 m
Diameter: 3.8 m
Launch Mass: 590 T
Low Earth Orbit Capacity: 9050 kg
The Atlas V 401 was manufactured by United Launch Alliance with the first launch on 2002-08-21. Atlas V 401 has 41 successful launches and 0 failed launches with a total of 41 launches. An Atlas V with a 4 meter diameter fairing, no boosters and a single centaur upper stage engine.
Agency
United Launch Alliance – ULA
Type: Commercial
Abbreviation: ULA
Administration: CEO: Tory Bruno
Founded: 2006
Launchers: Atlas | Delta IV | Vulcan
Spacecraft: CST-100 Starliner
Country: USA
United Launch Alliance (ULA) is a joint venture of Lockheed Martin Space Systems and Boeing Defense, Space & Security. ULA was formed in December 2006 by combining the teams at these companies which provide spacecraft launch services to the government of the United States. ULA launches from both coasts of the US. They launch their Atlas V vehicle from LC-41 in Cape Canaveral and LC-3E at Vandeberg. Their Delta IV launches from LC-37 at Cape Canaveral and LC-6 at Vandenberg.