Cygnus CRS OA-8 (S.S. Gene Cernan)
Antares 230
Orbital ATK
Mission
Cygnus CRS OA-8 (S.S. Gene Cernan)
Type: Resupply
This is the ninth planned flight of the Orbital ATK's unmanned resupply spacecraft Cygnus and its eighth flight to the International Space Station under the Commercial Resupply Services contract with NASA.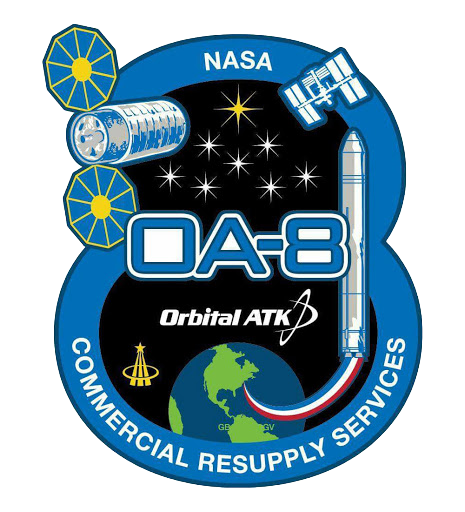 Location
Wallops Island, Virginia, USA
72 rockets have launched from Wallops Island, Virginia, USA.
Rocket
Antares 230 – Northrop Grumman Space Systems
Family: Antares
Length: 42.5 m
Diameter: 3.9 m
Launch Mass: 286 T
Low Earth Orbit Capacity: 7800 kg
The Antares 230 was manufactured by Northrop Grumman Space Systems with the first launch on 2016-10-17. Antares 230 has 5 successful launches and 0 failed launches with a total of 5 launches. Antares known during early development as Taurus II, is an expendable launch system developed by Orbital Sciences Corporation (now part of Northrop Grumman Innovation Systems after Northrop Grumman acquired Orbital ATK) and the Yuzhnoye Design Bureau to launch the Cygnus spacecraft to the International Space Station as part of NASA's COTS and CRS programs. Able to launch payloads heavier than 5,000 kg (11,000 lb) into low-Earth orbit, Antares is the largest rocket operated by Orbital ATK. Antares launches from the Mid-Atlantic Regional Spaceport and made its inaugural flight on April 21, 2013.
Agency
Orbital ATK
Type: Commercial
Abbreviation: OA
Administration: David W. Thompson
Founded: 2015
Launchers: Antares | Minotaur | Pegasus
Country: USA
Orbital ATK Inc. is an American aerospace manufacturer and defense industry company. It was formed in 2015 from the merger of Orbital Sciences Corporation and parts of Alliant Techsystems. Orbital ATK designs, builds and delivers space, defense and aviation-related systems to customers around the world both as a prime contractor and as a merchant supplier. Antares launches from Wallops in Virginia. Minotaur has many launch sites, with the most active now being Cape Canaveral and Vandenberg. Pegasus is an air launched vehicle from an aircraft and so has many launch locations.