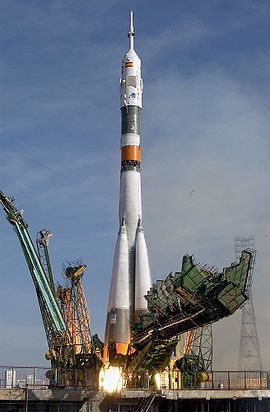 Russian Federal Space Agency (ROSCOSMOS) launch of a Soyuz-U Rocket
Russian Federal Space Agency (ROSCOSMOS) was scheduled to launch a Soyuz-U rocket as part of the Soyuz TM-16 mission. The launch window for the Human Exploration mission was on Sun, Jan 24th, 1993, 12:58 AM EST from 1/5 Baikonur Cosmodrome, Republic of Kazakhstan. Don't miss this exciting rocket launch!
Crew
Commander - Russian
Gennadi Mikhailovich Manakov is a former cosmonaut who commanded two Soyuz flights. He was selected on 2 September 1985 and flew as Commander on Soyuz TM-10 and Soyuz TM-16, retiring on 20 December 1996.
Flight Engineer - Russian
Aleksandr Fyodorovich Poleshchuk (Russian: Александр Фёдорович Полещук, born October 30, 1953) is a Russian cosmonaut. In February 1989 he was selected as a test cosmonaut candidate (1989 Cosmonaut Candidates Class, Group 14, Civil Specialists). From September 1989 to January 1991 he underwent the complete course of general space training and was qualified as a test cosmonaut, and then till March 1992 he undertook advanced training for the Soyuz-TM transport vehicle and Mir station flight. In 1992 he was selected as the backup flight engineer of the Soyuz TM-15 joint Russian-French mission, and consequently nominated as the flight engineer of the prime crew of Soyuz TM-16. In space from January 24 to July 22, 1993, he participated in a 179-day space flight with Gennady Manakov. During the flight he performed two EVAs totaling 9 hours and 58 minutes. Also testing of the androgynous peripheral docking subassembly of the Kristall module was performed.
Location
Baikonur Cosmodrome, Republic of Kazakhstan
Rocket
Soyuz-U
The Soyuz-U2 was a Soviet, later Russian, carrier rocket. It was derived from the Soyuz-U, and a member of the R-7 family of rockets. It featured increased performance compared with the baseline Soyuz-U, due to the use of syntin propellant, as opposed to RP-1 paraffin, used on the Soyuz-U.
Russian Federal Space Agency (ROSCOSMOS)
The Roscosmos State Corporation for Space Activities, commonly known as Roscosmos, is the governmental body responsible for the space science program of the Russian Federation and general aerospace research. Soyuz has many launch locations the Russian sites are Baikonur, Plesetsk and Vostochny however Ariane also purchases the vehicle and launches it from French Guiana.