United Space Alliance launch of a Space Shuttle Endeavour OV-101 Rocket
United Space Alliance was scheduled to launch a Space Shuttle Endeavour OV-101 rocket as part of the STS-123 mission. The launch window for the Human Exploration mission was on Tue, Mar 11th, 2008, 2:28 AM EDT from Launch Complex 39A, Kennedy Space Center, FL. The status of the launch was Success. Don't miss this exciting rocket launch! Watch the launch video of the Space Shuttle Endeavour OV-101 and experience the excitement for yourself.
Mission
STS-123
STS-123 was a Space Shuttle mission to the International Space Station (ISS) which was flown by Space Shuttle Endeavour. STS-123 was the 1J/A ISS assembly mission. The original launch target date was 14 February 2008 but after the delay of STS-122, the shuttle was launched on 11 March 2008. It was the twenty-fifth shuttle mission to visit the ISS, and delivered the first module of the Japanese laboratory, Japanese Experiment Module (Kibō), and the Canadian Special Purpose Dexterous Manipulator, (SPDM) Dextre robotics system to the station.
Location
Kennedy Space Center, FL, USA
Rocket
Space Shuttle Endeavour OV-105
Space Shuttle Endeavour (Orbiter Vehicle Designation: OV-105) is a retired orbiter from NASA's Space Shuttle program and the fifth and final operational Shuttle built. The United States Congress approved the construction of Endeavour in 1987 to replace Challenger, which was destroyed in 1986. Structural spares built during the construction of Discovery and Atlantis were used in its assembly. NASA chose, on cost grounds, to build Endeavour from spares rather than refitting Enterprise or accepting a Rockwell International proposal to build two Shuttles for the price of one.
Lockheed Martin Space Operations
Crew
Richard M. Linnehan
Mission Specialist - American
Richard Michael Linnehan is an American veterinarian and a former NASA astronaut.
Takao Doi
Mission Specialist - Japanese
Takao Doi (土井 隆雄 Doi Takao, born September 18, 1954) is a Japanese astronaut and veteran of two NASA space shuttle missions. Doi flew as a mission specialist aboard STS-87 in 1997, during which he became the first Japanese astronaut to conduct a spacewalk.
Dominic L. Pudwill Gorie
Commander - American
Dominic Lee Pudwill Gorie is a retired United States Navy officer and NASA astronaut. He is a veteran of four space shuttle missions.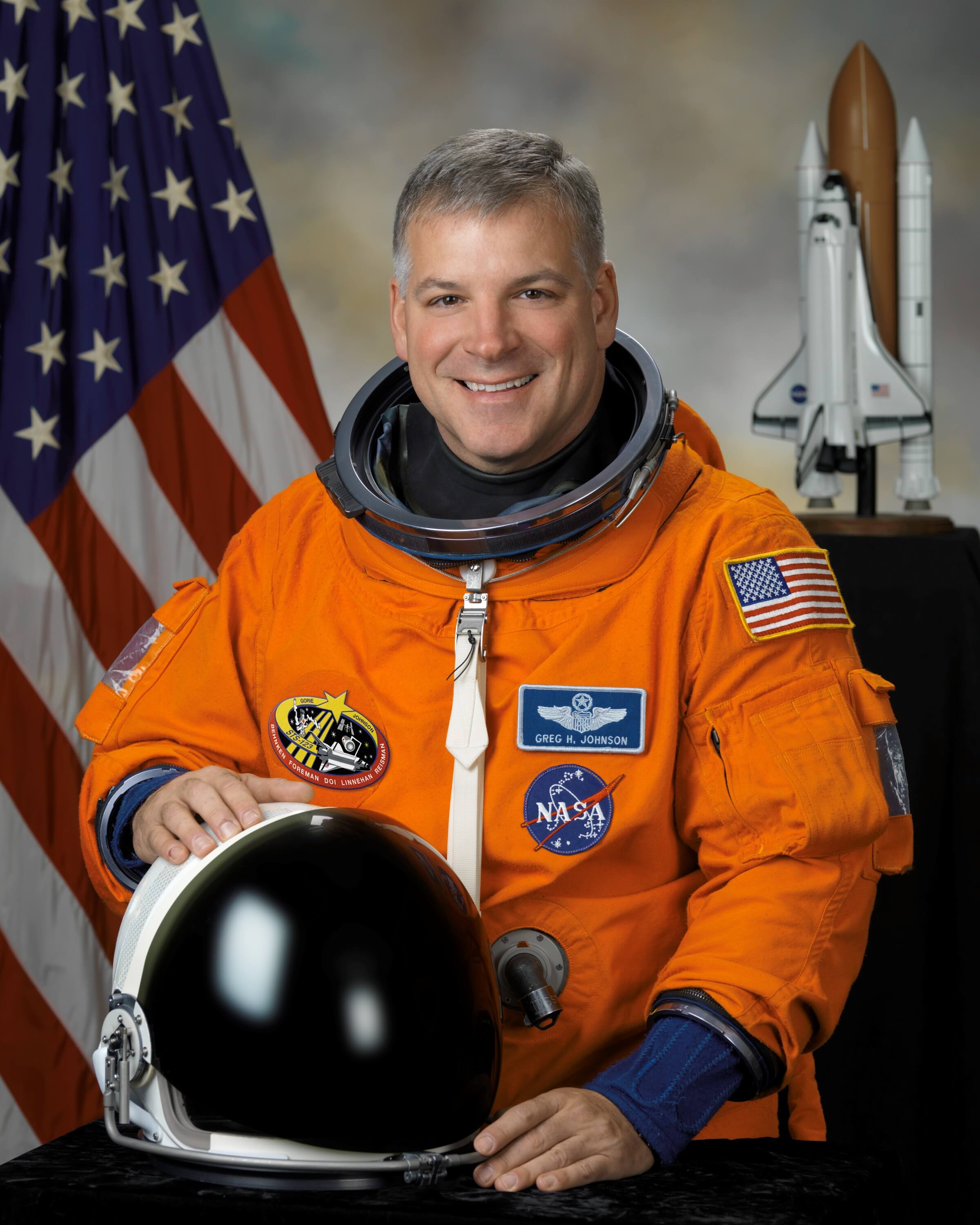 Gregory H. Johnson
Pilot - American
Gregory Harold "Box" Johnson is a NASA astronaut and a retired colonel in the United States Air Force. Johnson is a veteran of two space flights, STS-123 and STS-134. He served as pilot on his first mission, which delivered the Kibo logistics module and the Dextre robot arm to the International Space Station. Johnson was also assigned as the pilot to the STS-134 mission, which launched on May 16, 2011 and landed on June 1, 2011. Greg Johnson has also served in numerous roles for NASA including as a Capcom for several missions. At present time Gregory H. Johnson (Colonel, USAF, Ret.) is the President and Executive Director for the Center for the Advancement of Science in Space (CASIS).
Robert L. Behnken
Mission Specialist - American
Robert Louis "Bob" Behnken is a United States Air Force officer, NASA astronaut and former Chief of the Astronaut Office. Behnken holds a Ph.D in Mechanical Engineering and holds the rank of Colonel in the U.S. Air Force. Col. Behnken has logged over 1,000 flight hours in 25 different aircraft. He flew aboard Space Shuttle missions STS-123 and STS-130 as a Mission Specialist, accumulating over 378 hours in space, including 19 hours of spacewalk time. Behnken was also assigned as Mission Specialist 1 to the STS-400 rescue mission. He is married to fellow astronaut K. Megan McArthur.
Michael Foreman
Mission Specialist - American
Michael James Foreman is a retired U.S. Navy pilot and a NASA astronaut. While with NASA, Foreman was part of a mission that delivered the Japanese Experiment Module and the Canadian Special Purpose Dexterous Manipulator to the International Space Station. Foreman was also a crewmember of the STS-129 mission in November 2009. In 2018, he was elected mayor of Friendswood, Texas.
Garrett Reisman
Mission Specialist - American
Garrett Erin Reisman is an American engineer and former NASA astronaut. He was a backup crew member for Expedition 15 and joined Expedition 16 aboard the International Space Station for a short time before becoming a member of Expedition 17. He returned to Earth on June 14, 2008 on board STS-124 on Space Shuttle Discovery. He was a member of the STS-132 mission that traveled to the International Space Station aboard Space Shuttle Atlantis from May 14 to 26, 2010. He is currently the Director of Space Operations at SpaceX and a Professor of Astronautics Practice at the University of Southern California's Viterbi School of Engineering.
View More Rocket Launches