United Space Alliance launch of a Space Shuttle Atlantis OV-104 Rocket
United Space Alliance was scheduled to launch a Space Shuttle Atlantis OV-104 rocket as part of the STS-112 mission. The launch window for the Human Exploration mission was on Mon, Oct 7th, 2002, 3:45 PM EDT from Launch Complex 39B, Kennedy Space Center, FL. The status of the launch was Success. Don't miss this exciting rocket launch! Watch the launch video of the Space Shuttle Atlantis OV-104 and experience the excitement for yourself.
Mission
STS-112
STS-112 (ISS assembly flight 9A) was an 11-day space shuttle mission to the International Space Station (ISS) flown by Space Shuttle Atlantis. Space Shuttle Atlantis was launched on 7 October 2002 at 19:45 UTC from the Kennedy Space Center's launch pad 39B to deliver the 28,000 pound Starboard 1 (S1) truss segment to the Space Station. Ending a 4.5-million-mile journey, Atlantis landed at 15:44 UTC on 18 October 2002 on runway 33 at the Kennedy Space Center's Shuttle Landing Facility.
Location
Kennedy Space Center, FL, USA
National Aeronautics and Space Administration
Rocket
Space Shuttle Atlantis OV-104
Constructed in 1985, Atlantis was the fourth operational and the second-to-last Space Shuttle built. Its maiden flight was STS-51-J in October of 1985. Atlantis embarked on its 33rd and final mission, also the final mission of a space shuttle, STS-135, on 8 July 2011.
United Space Alliance
United Space Alliance (USA) is a spaceflight operations company. USA is a joint venture which was established in August 1995 as a Limited Liability Company (LLC), equally owned by Boeing and Lockheed Martin.
Crew
Jeffrey Ashby
Commander - American
Jeffrey Shears "Bones" Ashby is an American mechanical engineer, and former naval officer and aviator, test pilot and NASA astronaut, a veteran of three Space Shuttle missions. He is a retired Captain in the U.S. Navy. He currently works for Blue Origin as chief of mission assurance.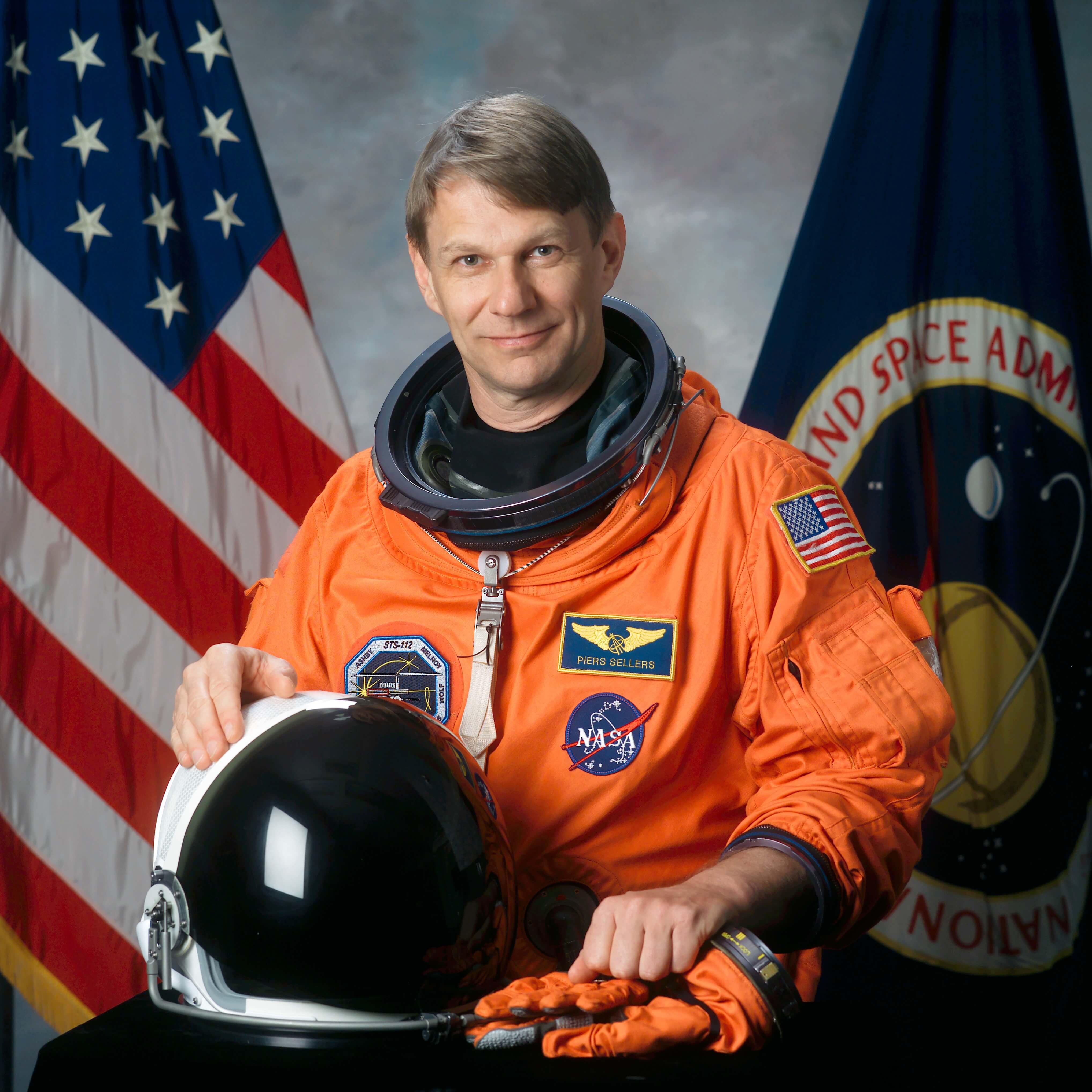 Piers Sellers
Mission Specialist - American
Piers John Sellers OBE was a British-American meteorologist, NASA astronaut[1] and Director of the Earth Science Division at NASA/GSFC. He was a veteran of three space shuttle missions. Sellers attended Cranbrook School, Cranbrook, Kent, United Kingdom, until 1973, and achieved a bachelor's degree in ecological science from the University of Edinburgh in 1976. In 1981 he gained a doctorate in biometeorology from the University of Leeds. In 2011, Sellers retired from the NASA Astronaut Corps. Before joining the astronaut corps, Sellers worked at NASA Goddard Space Flight Center on research into how the Earth's biosphere and atmosphere interact. This work involved climate system computer modelling and field work utilising aircraft, satellites and ground support input.
Sandra Magnus
Mission Specialist - American
Sandra Hall Magnus is an American engineer and a former NASA astronaut. She returned to Earth with the crew of STS-119 Discovery on March 28, 2009, after having spent 134 days in orbit. She was assigned to the crew of STS-135, the final mission of the Space Shuttle. She is also a licensed amateur radio operator with the call sign KE5FYE.
Fyodor Yurchikhin
Mission Specialist - Russian
Fyodor Nikolayevich Yurchikhin (Russian: Фёдор Николаевич Юрчихин, Greek: Θεόδωρος Γιουρτσίχιν του Νικόλαου; born 3 January 1959), is a Russian cosmonaut of Greek descent, engineer and RSC Energia test-pilot who has flown on five spaceflights. His first spaceflight was a 10-day Space Shuttle mission STS-112. His second was a long-duration stay aboard the International Space Station (ISS) as a Flight Engineer for Expedition 15; for this mission he was launched in the Soyuz TMA-10 spacecraft. He has undertaken two further long-duration stays aboard the ISS, as a crew member of Expedition 24 / 25. For this mission he was launched with the spacecraft Soyuz TMA-19, and he landed in November 2010, also with the TMA-19 spacecraft. He served as Soyuz Commander for his fourth mission aboard Soyuz TMA-09M, as Flight Engineer for Expedition 36 and ISS Commander for Expedition 37. In April 2017, Yurchikhin launched on Soyuz MS-04 for the fifth spaceflight of his career, a six-month mission to the ISS as part of Expedition 51 and 52, for which he was the Commander.
David Wolf
Mission Specialist - American
David Alexander Wolf is an American astronaut, medical doctor and electrical engineer. Wolf has been to space four times. Three of his spaceflights were short-duration Space Shuttle missions, the first of which was STS-58 in 1993, and his most recent spaceflight was STS-127 in 2009. Wolf also took part in a long-duration mission aboard the Russian space station Mir which lasted 128 days, and occurred during Mir EO-24. He was brought to Mir aboard STS-86 in September 1997, and landed aboard STS-89 in January 1998. In total Wolf has logged more than 4,040 hours in space. He is also a veteran of 7 spacewalks totaling 41hrs 17min in both Russian and American spacesuits.
Pamela Melroy
Pilot - American
Pamela Anne Melroy is a retired United States Air Force officer and a former NASA astronaut. She served as pilot on Space Shuttle missions STS-92 and STS-112 and commanded mission STS-120 before leaving the agency in August 2009. After serving as Deputy Program Manager, Space Exploration Initiatives with Lockheed Martin, Melroy joined the Federal Aviation Administration in 2011, where she was a senior technical advisor and director of field operations for the FAA's Office of Commercial Space Transportation. In 2013, she left the FAA and joined DARPA as Deputy Director of the Tactical Technology Office. She left the agency in February, 2017.
View More Rocket Launches