Lockheed Space Operations Company launch of a Space Shuttle Discovery OV-103 Rocket
Lockheed Space Operations Company was scheduled to launch a Space Shuttle Discovery OV-103 rocket as part of the STS-95 mission. The launch window for the Microgravity Research mission was on Thu, Oct 29th, 1998, 2:19 PM EST from Launch Complex 39B, Kennedy Space Center, FL. The status of the launch was Success. Don't miss this exciting rocket launch! Watch the launch video of the Space Shuttle Discovery OV-103 and experience the excitement for yourself.
Mission
STS-95
STS-95 was a Space Shuttle mission launched from Kennedy Space Center, Florida on 29 October 1998, using the orbiter Discovery. It was the 25th flight of Discovery and the 92nd mission flown since the start of the Space Shuttle program in April 1981. It was a highly publicized mission due to former Project Mercury astronaut and United States Senator John H. Glenn, Jr.'s return to space for his second space flight. At age 77, Glenn became the oldest person, to date, to go into space. This mission is also noted for inaugurating ATSC HDTV broadcasting in the U.S., with live coast-to-coast coverage of the launch. In another first, Pedro Duque became the first Spaniard in space.
Location
Kennedy Space Center, FL, USA
National Aeronautics and Space Administration
Rocket
Space Shuttle Discovery OV-103
Space Shuttle Discovery is one of the orbiters from NASA's Space Shuttle program and the third of five fully operational orbiters to be built. Its first mission, STS-41-D, flew from August 30 to September 5, 1984. Over 27 years of service it launched and landed 39 times, gathering more spaceflights than any other spacecraft to date.
United Space Alliance
United Space Alliance (USA) is a spaceflight operations company. USA is a joint venture which was established in August 1995 as a Limited Liability Company (LLC), equally owned by Boeing and Lockheed Martin.
Crew
Pedro Duque
Mission Specialist - Spanish
Pedro Francisco Duque Duque, OF, OMSE (Madrid, 14 March 1963) is a Spanish astronaut and aeronautics engineer, currently serving as Spain's Minister of Science, Innovation and Universities. He was the first Spanish astronaut. Duque underwent training in both Russia and the United States. His first spaceflight was as a mission specialist aboard space shuttle mission STS-95, during which Duque supervised ESA experimental modules. In October 2003, Duque visited the International Space Station on board of a Soyuz TMA Ship for several days during a crew changeover. The scientific program of this visit was called by ESA/Spain Misión Cervantes.
John Glenn
Payload Specialist - American
Colonel John Herschel Glenn Jr. was a United States Marine Corps aviator, engineer, astronaut, businessman, and politician. He was the first American to orbit the Earth, circling it three times in 1962. Following his retirement from NASA, he served from 1974 to 1999 as a Democratic United States Senator from Ohio.
Curtis Brown
Commander - American
Curtis Lee "Curt" Brown Jr. is a former NASA astronaut and retired United States Air Force colonel.
Stephen Robinson
Mission Specialist - American
Stephen Kern Robinson is a former NASA astronaut.
Chiaki Mukai
Payload Specialist - Japanese
Chiaki Mukai (向井 千秋 Mukai Chiaki, born May 6, 1952, Tatebayashi, Gunma, Japan) is a Japanese doctor and JAXA astronaut. She was the first Japanese woman in space, and was the first Japanese citizen to have two spaceflights. Both were Space Shuttle missions; her first was STS-65 aboard Space Shuttle Columbia in July 1994, which was a Spacelab mission. Her second spaceflight was STS-95 aboard Space Shuttle Discovery in 1998. In total she has spent 23 days in space.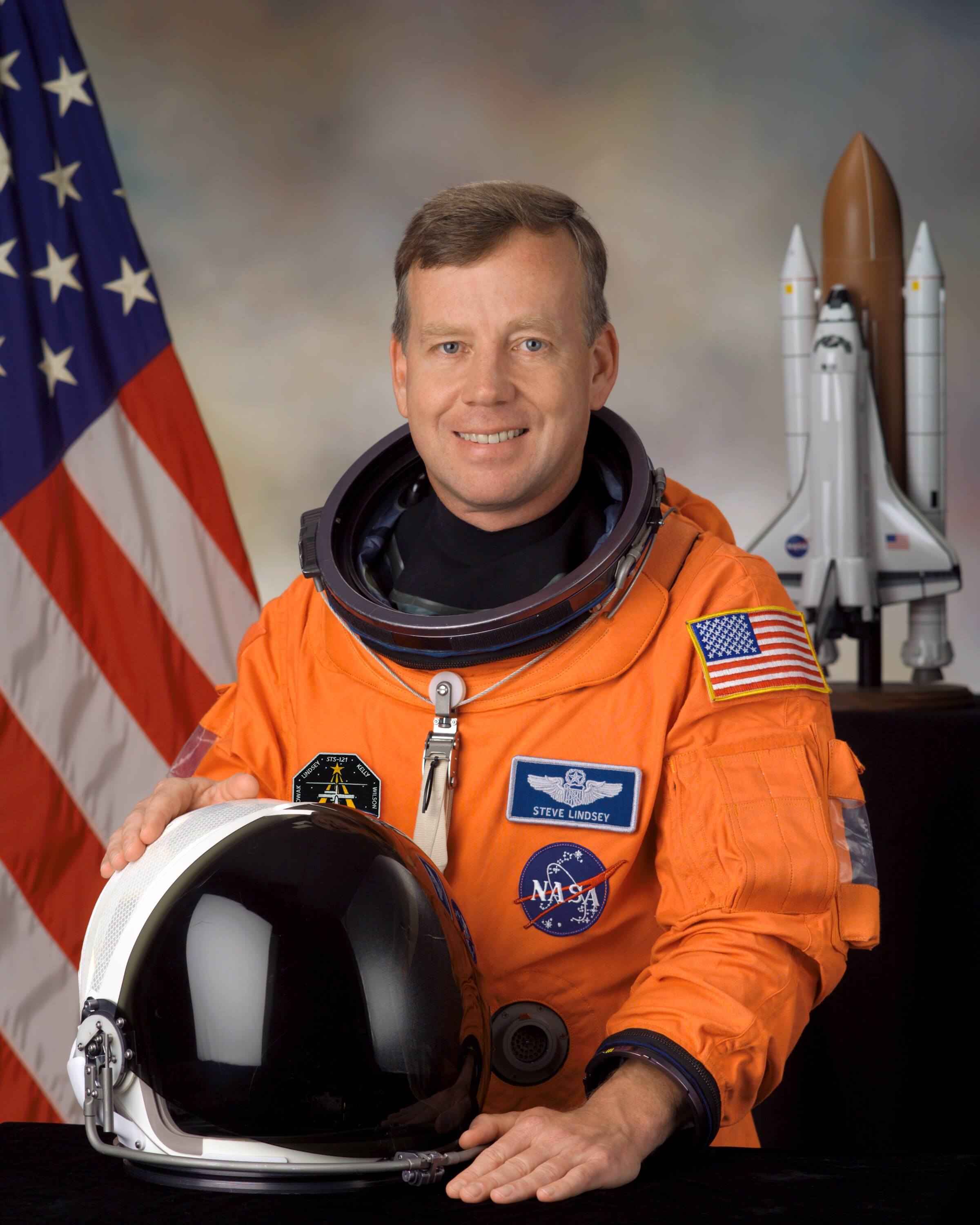 Steven Lindsey
Pilot - American
Steven Wayne Lindsey is a retired U.S. Air Force officer and NASA astronaut. Lindsey served as Chief of the NASA Astronaut Office from September 2006 until October 2009.
Scott E. Parazynski
Mission Specialist - American
Scott Edward Parazynski is an American physician and a former NASA astronaut. A veteran of five Space Shuttle flights and seven spacewalks, Parazynski's latest mission was STS-120 in October, 2007 – highlighted by a dramatic, unplanned EVA to repair a live solar array. In May 2016 he was inducted into the US Astronaut Hall of Fame. He retired from NASA in March 2009 to pursue entrepreneurial opportunities in the private sector, and he is currently the CEO of a technology start-up. He is the first person to have both flown in space and summited Mount Everest, the highest point on Earth.
View More Rocket Launches