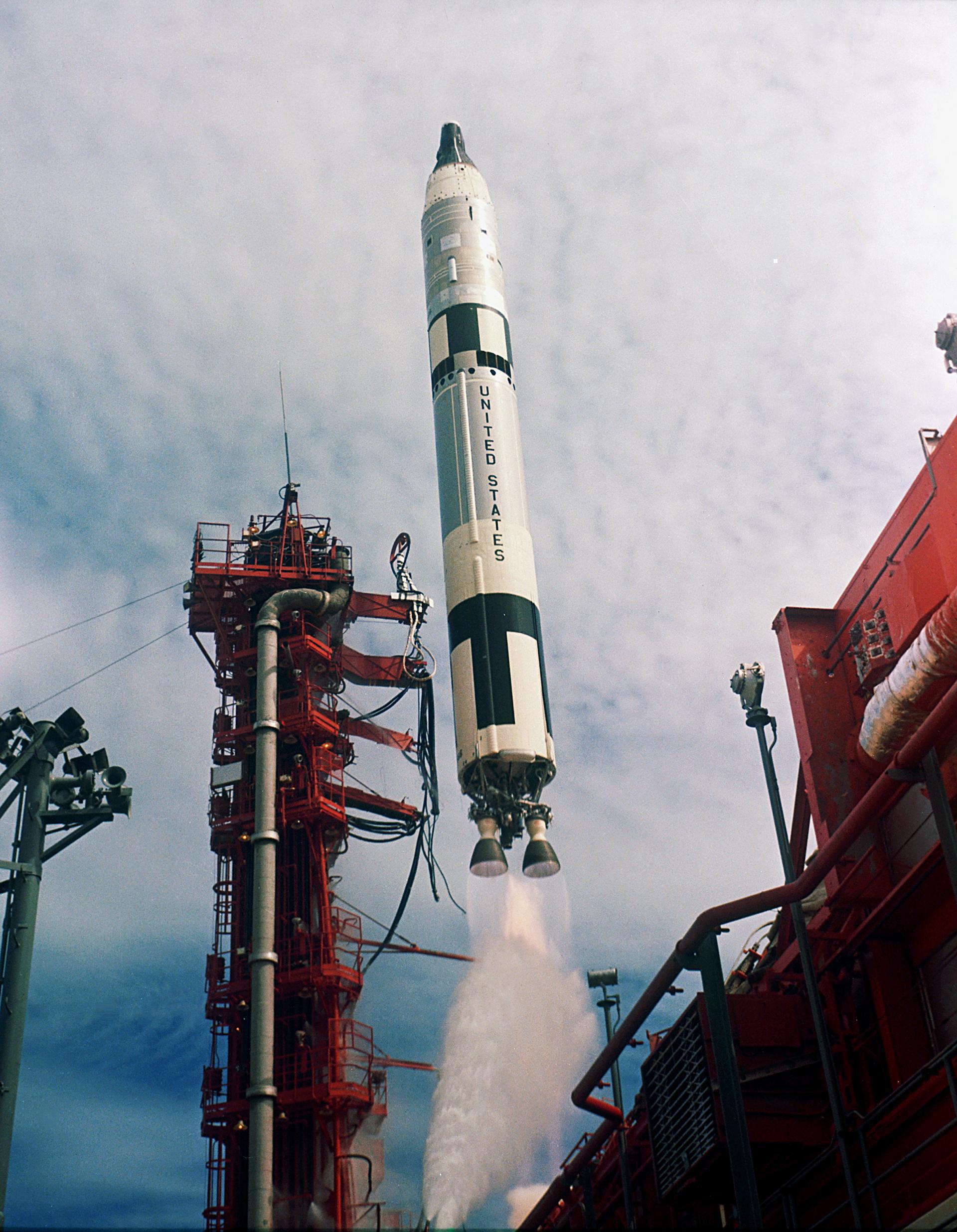 National Aeronautics and Space Administration launch of a Titan II Rocket
National Aeronautics and Space Administration was scheduled to launch a Titan II rocket as part of the Gemini VII (Gemini 7) mission. The launch window for the Human Exploration mission was on Sat, Dec 4th, 1965, 2:30 PM EST from Space Launch Complex 19 Cape Canaveral, FL, USA. Don't miss this exciting rocket launch! Watch the launch video of the Titan II and experience the excitement for yourself.
Crew
Command Pilot - American
Frank Frederick Borman II is a retired United States Air Force pilot, aeronautical engineer, test pilot, and NASA astronaut, best remembered as the Commander of Apollo 8, the first mission to fly around the Moon, making him, along with crew mates Jim Lovell and Bill Anders, the first of only 24 humans to do so. Before flying on Apollo, he set a fourteen-day spaceflight endurance record on Gemini 7, and also served on the NASA review board which investigated the Apollo 1 fire. After leaving NASA, he was the Chief Executive Officer (CEO) of Eastern Air Lines from 1975 to 1986. Borman is a recipient of the Congressional Space Medal of Honor. He is currently the oldest living former American astronaut, just eleven days older than fellow astronaut Jim Lovell.
Pilot - American
James Arthur Lovell Jr. is a former NASA astronaut, Naval Aviator, and retired Navy captain. Lovell is known for being the commander of the ill-fated Apollo 13 mission, which suffered a critical failure en route to the Moon but was brought back safely to Earth through the efforts of the crew and mission control. In addition to being part of the Apollo 13 crew, Lovell was the command module pilot of Apollo 8, the first Apollo mission to enter lunar orbit.
Location
Cape Canaveral, FL, USA
Rocket
Titan II
The Titan II GLV (Gemini Launch Vehicle) or Gemini-Titan II was an American expendable launch system derived from the Titan II missile, which was used to launch twelve Gemini missions for NASA between 1964 and 1966. Two unmanned launches followed by ten manned ones were conducted from Launch Complex 19 at the Cape Canaveral Air Force Station, starting with Gemini 1 on April 8, 1964.
National Aeronautics and Space Administration
The National Aeronautics and Space Administration is an independent agency of the executive branch of the United States federal government responsible for the civilian space program, as well as aeronautics and aerospace research. NASA have many launch facilities but most are inactive. The most commonly used pad will be LC-39B at Kennedy Space Center in Florida.